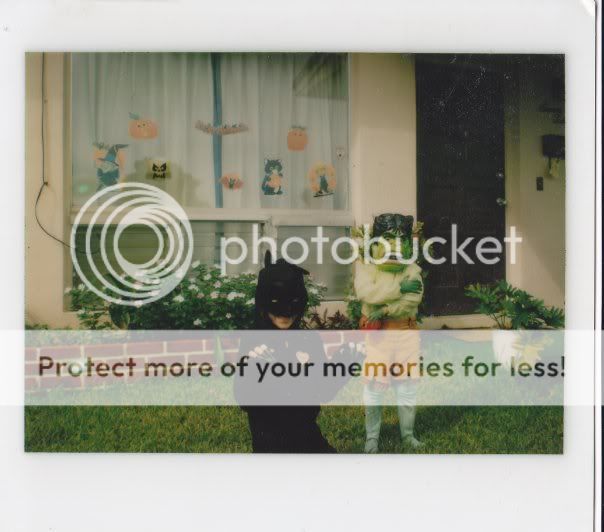 So what are you going to be for Halloween? I know, it was a common question when you were growing up, as you decided whether you were going to be Freddy, a Witch, Ghost, Bride of Frankenstein, etc. My favorite Halloween memory was me as the Hulk (yes - a little preschooler girl dressed as the Hulk) and my sister was an adorable black cat.
Well, according to
Crazy Dog T-shirts
, we can still play pretend - from
sexy superheroes
to
kissable kitties
... there are some hot options for "mom". And dad can join in the fun too, with hilarious
Halloween Costumes for adults
, like
LT Dangle from Reno 911
or even a
Ghostbusters costume
! I love this one, since there is a Ghostbusters costume for both men and women, so you can go as a pair!
If you remember
my last Crazy Dog T-shirts review
, I love super heroes ... particularly Wonder Woman. So I was thrilled to see that they had a
Wonder Woman costume
! The wonder woman costume comes with the dress, boot tops, cape, gauntlets, belt and tiara.I ordered a medium, but in hindsight a small would have been more appropriate. A medium fits sizes 10 - 12. Small would have been probably better for women sizes 6 - 8. And Large would be for women size 14+.
I love the outfit. If you happen to have (or want) sexy red boots - now is the time to get them. This costume DOES come with the boot toppers, but they will only fit around the "foot" of not-so-long foot lengths. In other words, they work better with my new
boots from SuperShoes
then my pointy leather boots I got from Victoria's Secret. And the top of the "boot tops" is too wide for my legs - so I tucked them into my boots.
The cape is short, sassy and shiny. The dress stays on well, even though it is a little large around my top. But that's my fault - not the costumes! I am just too darn petite in some places and I ordered this too large. But it will be fixed, since I am having my grandmother take that in for me! The belt attaches around the back with Velcro. The red top of the dress is a velvety material, while the bottom is shiny and blue. The dress has a lot of elastic on the back to allow it to stretch to almost any body shape. The guantlets are not elasticized on either end, but they slid on my arm pretty well. It might be difficult to slide them over larger hands and wrists? It would rock if they were put on with elastic or Velcro!
Overall, I do think it is a great purchase for a super hero costume! Not "too sexy" and appropriate for any party! And I am positive I can get a few more years out of this, before my sons start begging me to stop dressing up!
Interested in other Super Hero options for women? Well, I adore the
sexy Robin outfit
- and there is also a fun
Bat Girl
and
Super Girl
.
Want to go as a "partner" with your husband in matching costumes? Well, your husband can go as
ScarFace
, while you go as an
FBI agent
. Or my favorite matching pair - your husband and you can both go as
Ghostbusters
. There are two different "Ghostbuster" outfits women can choose.
If there's something strange
in your neighborhood
Who ya gonna call?
GHOSTBUSTERS

This is honestly the first time I've seen them and think it's HILARIOUS!
And since costumes are needed in a timely manner - it rocks that they do same day shipping. Most orders places before 9am (CDT) Monday through Friday will usually ship out the same day! And don't forget about their Low Price Guarantee!
So, if you need a costume for a party or contest - or just a funny tee - where you gonna go? Crazy Dog Tees!

One Buzz readers can win (1) costume from
Crazy Dog T-shirts
!
MANDATORY, FIRST ENTRY:
What
Adult Costume
do you want to win?
EXTRA ENTRIES:
To receive these extra opportunities for entries, you must fulfill the first REQUIRED entry. But for extra entries, you can do the following - leave a comment for each:
Contest ends 10/03/09. Please refer to
complete contest rules
. This contest is open to the USA and Canada. The entries listed above are the ONLY entries for this contest. Winners will be notified by e-mail (if supplied in the entry or on profile page), as well as on the Winner's Wall.
This is solely the opinion of the Mom Buzz. Other people may have different experiences with the product. Thank you Crazy Dog Tees for providing the Wonder Woman costume for review. And don't forget to enter my other hot contests so you can win and try buzzworthy products!