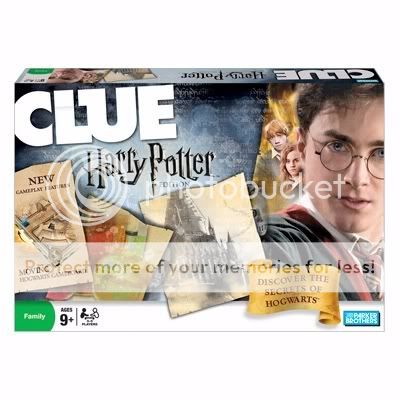 Like many people, I am a HUGE Harry Potter fan. Of course I've read the complete series of books and watched all the movies. So when I heard the buzz that Parker Brothers recently released a
Harry Potter edition of Clue
, I just had to learn more!
Honestly, it's been ages since I've sat down to play Clue. My only recollection was that it was a favorite when growing up. But without a doubt, I could tell that
Harry Potter Clue
was going to have some twists and turns that the original didn't have. The biggest change - a MOVING HOGWARTS GAMEBOARD! Just like the staircases at Hogwarts, the board will continuously change throughout game play.
You need 3 to 5 players to play. Nine years or older is the suggested age of this family-friendly game. Since my boys are too young, we invited my brother-in-law over.

ABOUT
The idea behind the game is that a fellow student vanished from Hogwarts and you have to discover who did it, what spell or item was used and where they were attacked. My husband was disappointed that you can only play as "good guys". LOL! That means the players can choose from Harry, Ron, Hermoine, Ginny, Luna or Neville.
ASSEMBLY
The game comes with a gameboard, 4 wheels, 4 plastic rivets, 6 student cards, 6 movers, 33 help cards, 33 Dark Cards, 21 Mystery Cards, 1 Notepad, 40 house point tokens, 6 suspect tokens, 6 item tokens, 1 envelope, 2 standard dice and 1 hogwarts dice with label sheet.
The first time you play there is a little extra assembly, but it is a cinch to play after that then. It's the usual new board game stuff of punching out tokens, attaching stickers and that sort of thing.
PLAY!
To start the game, first you need to find out which student went missing. So you shuffle the six student cards (Luna, Neville, Harry, Hermoine, Ron, Ginny) and randomly choose one. Then the players can choose a student for themselves. The students that were not chosen are simply removed from play. You put your chosen student on a "mover" piece.
Next, you have to lay out the who, what, where scenario. So you shuffle the suspect cards, the item cards and the room cards. Then without letting ANYONE see, one of each is put into the Clue envelope.
From there you simply roll the die, move around the board, solve the mystery and go to Dumbledore's office to make your accusation.
BUZZ FACT:
The original Clue board game was the only board game to be made into a movie!
MISCHIEF MANAGED
Honestly, the game was loads of fun to play with adults. It kept you thinking and really tied in my love of the Harry Potter series. It would be a lot of fun for older children. You will want to have it on hand for family get-togethers and game nights!
You can
purchase Harry Potter Clue from the Hasbro site for $26.99
! It would make a fabulous birthday or Christmas gift!
One Buzz readers can win Harry Potter Clue from Hasbro!
MANDATORY, FIRST ENTRY:
What game would you love from
Hasbro.com
?
EXTRA ENTRIES:
To receive these extra opportunities for entries, you must fulfill the first REQUIRED entry. But for extra entries, you can do the following - leave a comment for each:
Contest ends 9/21/09. Please refer to
complete contest rules
. The entries listed above are the ONLY entries for this contest. Winners will be notified by e-mail (if supplied in the entry or on profile page), as well as on the Winner's Wall.
This is solely the opinion of the Mom Buzz. Other people may have different experiences with the product. Thank you Hasbro for supplying the game for review. And don't forget to enter my other hot contests so you can win and try buzzworthy products!