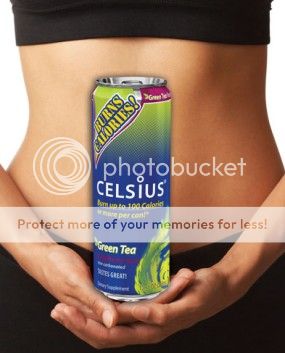 Some of us may still be trying to lose a few pounds before summer starts. There is no quick fix, but there is a drink that says it will let you burn 100 calories or more per serving!
Celsius!
Plus, it also helps keep you alert and increase energy.
It has the same amount of caffeine as two cups of coffee - 200 mg. And it also contains "
Metaboost
", which is a combination of Taurine, Guarana extract, Green Tea Leaf extract, the caffeine, Glucuronolactane and ginger extract.
Each can has 10 calories - but
burns 100 calories or more
!
My family had the opportunity to try five cans. Now, I am a picky person when it comes to drinks so I tested it on my husband first. I gave him the Raspbery Acai and Peach Mango teas. He felt no affects from the increased caffeine, but he is also 220 pounds and takes a lot of caffeine during the day. The 200 mg was like a rain drop in the ocean.
Now, I like Orange Soda, so that was the first flavor I tried myself - carbonated Orange. The flavor was weaker than Orange Soda, but it definetely revved me up for play dates and kept me going for hours. Next I tried the Ginger Ale. Whoa - now that was FULL of Ginger Flavor! In fact, it was more gingery than the Ginger Beer (non alcoholic) that I crave when pregnant! Finally, I tried the Lemon-Lime. I could taste a ginger after-taste, but it was still very delicious! I had it at 7 am and it gave me enough energy to bring my gma on errands with the kids and go on another playdate without pause!
Did it burn calories? Hard to say since I only tried 3 cans! But, I think that Celsius is worth a shot as part of a diet and exercise plan to get you ready for summer!
WIN WIN WIN

Would you like to win a sampling of Celsius Drinks? Visit my
PlayDatePicks Site
to enter! Contest ends June 14th!
This is solely the opinion of the Mom Buzz. Other people may have different experiences with the product.