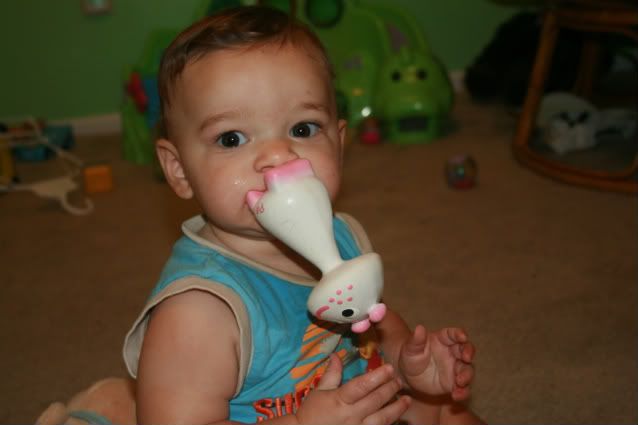 Babies put so many things in their mouth, that you have to do what you can to make this "curious age" a little safer. That's why the products that you can find at
Grow In Style
rock! They have BPA Free Teethers, Natural Pacifiers, Eco Friendly Toys, Organic Diaper Cakes and lots more!
You definitely want to check out the BPA Teethers for your little ones! My son used to chew on EVERYTHING! He really loved sneakers and these small rubber aliens that my other son owned. So I was looking for something that was similar to those items, but a lot safer to put in his mouth. That's when I discovered
Chan, Pie, Gnon
- which are all available at Grow In Style. At the time I bought Chan and Pie from a different retailer, since I hadn't discovered Grow In Style yet. Chan and Pie (and Gnon too) are all a soft, rubber. They remind me of dog toys - they even squeak! My son loved chewing on their odd shaped heads.
These teethers are handmade in the French Alps with natural rubber and non-toxic food paint and fully comply with the U.S. toy safety requirements of ASTM F-963.
If you like Chan, Pie and Gnon - you may also like
Sophie Giraffe
. She's like their cousin. I haven't tried her, although it was a tough decision between her and Chan and Pie. They all make GREAT baby shower gifts and first teethers! Sophie Giraffe's body has all sorts of nubs to soothe baby's gums. Plus, she is made with the same natural rubber and non-toxic food paint.
I also loved the
Organic Fruit Tote
and Crate - and I was allowed to get a closer look at the tote. It is this little cloth basket that holds a banana (with a head), grapes (with a head), watermelon (with a smile) and a pear (with a smile). It is made by Under the Nile using 100% Organically Grown Egyptian Cotton. They are SO SOFT. And I love the faces on the fruit banana and grapes. So cute! I think the different shapes will definitely have a little one manipulating and moving them in their hands. And the colors are different and bright.
But I have to say, the Organic Diaper Cakes at Grow In Style are awesome! You totally have to check them out! My favorite is the
Organic 3 Tier Sophie Giraffe Green Diaper Cake
. It comes with Sophie Giraffe and Gnon from Chan Pie Gnon. And of course it includes diapers, onesies, burp cloths, blankets a pacifier and more! You have to check it out.
The selection of EcoFriendly items at Grow In Style is awesome. And if you want to host or give a "green" baby shower gift - definitely check them out! They have an array of cakes and toys in a variety of prices!