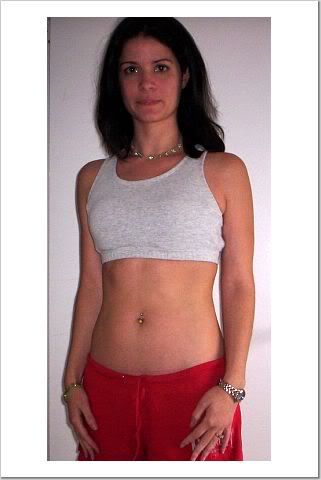 Pre-kids I was an avid gym attendee. I loved aerobics, step and cardio. Although I admit it took me some time to get the steps down right! I also loved Tae-Bo. Remember Billy Blanks!? Oh, I could definitely kick some butt when I did that. See that picture? Me!!! Pre-kids!
Now that I am a mom, I hate being away from my kids. (Obsessive mom here). But, I still want to be in shape and have the energy to chase them around, so it seems right that my new work-out be at home with
Chicks-n-Chickens
. Oh, and don't let the "Lullaby" fool you! There is some "grooooooove" in there too!
I am going to tell you the BEST PART first. You know how every time you try to sneak in some
me-time
, your baby or toddler wants you NOW NOW NOW. Well, pop in the DVD, pick up that little one, and dance, sway and shake your groove thing while holding that additional weight in your arms! The heavier the baby, the better - in my opinion. So holding my 24 pound monster just makes those squats work that much better.
"Squats,"
you say.
"I thought this was a lullaby DVD?"
Ha! I told you the lullaby would FOOL YOU! When you are in the "groove" option you will be warming up, working out legs, arms and tummy and doing butt-lifting SQUATS. Up, down, up, down, hold and pulse to wonderful tunes like Chocolate = Love.
But once you burned some calories, you get some extra cuddle time with your little one in the lullaby mode. Cool off as you gently sway and stretch to the soothing tunes of Lisa Phenix. Your baby might even fall asleep!
I think
Chicks-n-Chickens
is wonderful for mom to get in shape. And it's perfect for your baby when they are overtired, bored and or cranky. It will soothe them and be FUN! Pretty much, it will keep you all sane and in shape!
DETAILS:
When you purchase the Lullaby Exercises DVD, you also get an audio CD of the original soundtrack! Once your child gets used to the music at home, I think they will find this soothing in the car or nursery.
BONUS!
Did you know Chick-n-Chickens also sells natural wood Egg Teethers, organic knit hats and other awesome finds made in the USA by cool chicks? Be sure to check it out!
OVERALL:
This will make a GREAT baby shower gift. Or if you just had a baby and want to ease back into your pre-baby body, Chick-n-Chickens is the DVD for you.