This post is inspired by the
MomDot Party
(Day 7) and sponsored by
Sillymonkeez
and
My Baby Bump
.
Who is on the Good List according to Mrs. Claus (aka: the Mom Buzz)?
1. Keegan: For being good at making mischief, while maintaining a look of innocence.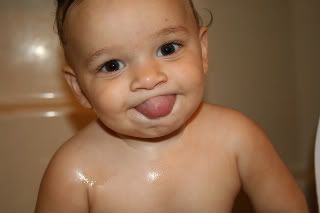 2. Lochlan: For being good at climbing things he shouldn't & having a steadfast attention span that let's him ignore boring rules.
Who is on the bad list?
1.
The Neurotic Mom
for trying to get me to participate in
this mean meme
. LMAO. I will post it ... but #2 is why I haven't.
2.
Photobucket
for telling me I have a network problem everytime I try to upload an image! What network?!?! It's just ME at the Mom Buzz!
Short list. But isn't that what we short-for-time mamas like?
Happy Buzzing!