It's that time of the year! Photo Season! Everything is a photo op, from professional photos to visiting Santa, and from Thanksgiving Dinner with your family to Christmas Eve with the In-Laws. What will your children be wearing? If you haven't decided yet, the Mom Buzz has some ideas!
Boys: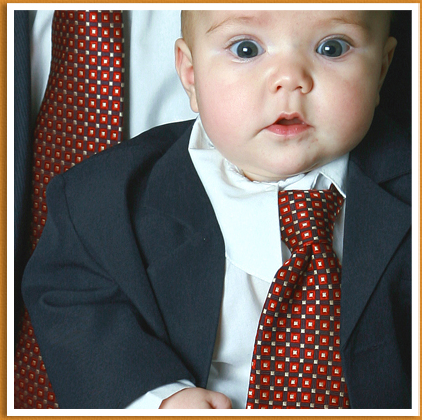 1. Have dad and his sons wear matching ties for the holidays. This is a great idea for Christmas pictures! The Red with Red Specs is my favorite for photos and going to holiday mass!
Item:
Red with
Red Specs
Availa
ble from:
My Favorite Pal
2. Finding a suit for a little boy is no easy task. But you can get everything you need from Janie and Jack! Check out this classic look, available from 3 months to size 8.
Item:
Suit
Available from:
Ja
nie and Jack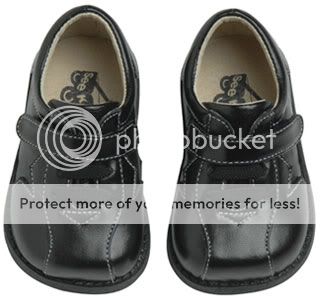 3. These black shoes are the perfect to wear along with dress pants on the way to church! They match almost any outfit, yet still embody the spirit of a toddler with the cool star cut outs on each side.
Item:
Radik
Available from:
See Kai Run
6. Your son will be the hit of the holiday party with these baby blue Robeez, available for Holiday 2008, featuring a playful pair of navy and white penguins.
Item:
Skating P
enguin - Baby Blue
Available from:
Robeez
7. Cover the gap between pants and socks during those chilly nights with these red and white leg warmers!
Item:
Flyer Huggalugs
Available from:
Huggalugs
8. Finally, for boys I really love this black velvet vest. It would look equally wonderful over a red, green, white or blue dress shirt and some jeans OR dress pants. So many options to make it more casual, more dress and always party perfect!
Item:
Black velve
t vest
Available from:
Gap Kids
1. In my head I have the perfect holiday photo. A little girl wearing
RuffleButts
and a holiday bow. Or maybe a Santa hat perched on her head.
RuffleButts
has your little one's diaper covered! Check out their special edition
Holiday Bloom
ers
or maybe their
bright, red ones
are more your style.
Item:
Holiday Bloomers
Available from:
RuffleButts
2. This white belt has a personalized belt buckle, with your child's initial. The belt is simple and chic, perfect for casual holiday wear.
Item:
My Name is White Polka Dots
Available from:
GiGi Belts
3. Layers of red tulle accented with fluffy, white trim set the holiday mood. Perfect for holiday photos! Accessorize with a cute Santa hat or Christmas bows.
Item:
Santa Dress
Available from:
Miss
Priss Tutus
4. The selection of shoes at
See Kai Run
is amazing. We think your little one will stay in the Christmas spirit with these red
Yunas
!
Item:
Yuna Shoes
Available:
S
ee Kai Run
5. You might also be taken by these special limited-edition pair of crimson Mary Janes, available only available for Holiday 2008!
Item:
Classic Mar
y Jane - Red
Available from:
Robeez
6. Let your little girl chill out with this red microfleece vest with white trim. It is sweetly layered with a tee and colorful striped leggings. Faux fur boots finish the very cool look.
Collection:
Chill Out
Availab
le from:
Gymboree
7. Keep those little legs warm under a skirt or cover the gap between pants and socks with these holiday leg warmers! I also think the pink diamond pattern will fit right in this holiday season, as pink and blue are the new green and red.
Item:
Hugg
alugs
in Jazz (pink) and falling snow (blue)
Available from:
Huggalugs
8. Last, but not least, check out these
holiday pettiskirts
! Layers and layers of tulle! It is the perfect look for holiday 2008! I can't decide what I like more, the
red with white trim
or the
red with green trim
! So, I'll let you - the moms with girls - decide.
Item:
Holiday Pettiskirts

Available from:
Miss Things Boutique
If you have a fabulous item for boys or girls to wear this season and want to include it on the Mom's Buzz list, just send me an
e-mail
!
Happy Buzzing!