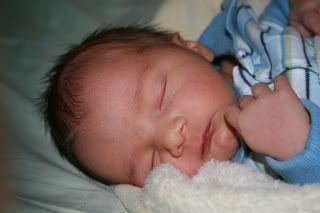 Last Friday I told you I would share Lochlan and Keegan's Bedtime routine. It's a 3.5 hour process so I couldn't catch it all on video - plus my mom took back her Flip.But I will still share my schedule so you can see how it works. And although it takes 3.5 hours, it is not painful! It's just what we do almost every night.
This routine was actually developed with Keegan in mind. And then to simplify our lives, we forced Lochlan into it. I wouldn't suggest forcing a first child into a routine. But at our house we needed one similar routine to keep both boys on track. Two very different routines would create less sleep overall.
6:00 PM: Dinner!
I sit the boys down and we eat. Simple! They are usually done by 6:30pm. They get down, wiped down and run around as we clean up a little.

7:00 PM: Walk.
The boys enjoy it. When Keegan was little he would scream, but I enjoyed the walk because he would have screamed inside the house too. But now both boys love to stroll and walk around the neighborhood.
7:30 PM: Bath time!
Soapy bubbles and water everywhere. We used to bathe them separately, because Lochlan was too small for the big tub. But I could do that at the same time. Keeg in the big tub, Loch in the little tub. Then Keegan went through a shower-with-mommy phase. So Lochlan would be bathed by daddy or bathed first. Then I would shower with lots of dinosaurs, ducks and Keegan.
8:00 PM: Wind down.
Or up. I used to rock Keegan until he was around 17 months old - simply because my pregnant belly got too big to have him on my lap. So Keegan and I would curl up on the couch. And then eventually he just started using that time to play more. Lochlan has never been big on rocking, so I used to cuddle and feed him his last bottle on the couch. Often he crawls and toddles around Keegan now. And then we just watch him and when he acts super sleepy/cranky we rock him a few minutes then put him into his crib awake. which leads us to...
8:30 PM: BEDTIME!
Like I said, we put Lochlan down awake with his Dex bear beating away. He'll spit out a pacifier and yell. We go in and give him a new one and he goes to sleep. With Keegan we read at least three bedtime stories, turn on his bear and soother, tuck in Spider Man, Hulk and Skeleton, turn off the lights and leave his door open.
And we are done! There might always be hiccups along the way, but we keep to this routine as much as possible and it works really well for us! When I say we forced Lochlan into it, I mean that I think he would have been an earlier sleeper if I let him. More likely to go to bed at 7:30 PM. But with Keegan screeching around the house he would constantly awaken Lochlan. So having the same bedtime works better for us as a complete household.
Now, stay tuned to the Mom Buzz and I will talk you through creating your own bedtime routine and offer tips & tricks if all else fails!
Happy Zzzzing!