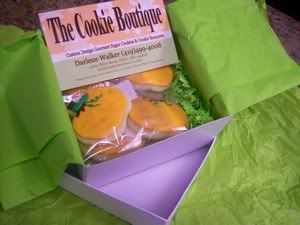 There is an awesome Halloween treat contest going on at
MomDot.com
! The
Cookie Boutique
is sponsoring a give-away for a Halloween Gift box.(A $31.20 Value!!)
These cookies look simply delicious with soft, sugar icing! The Cookie Boutique has designs for all occasions and holidays! Baby showers, Halloween, Get Well and more.
Each cookie comes individually packaged to ensure they stay fresh as long as you need them to! And, as Trisha on
MomDot
points out, it makes it easy to put a treat in a lunch box or hand out to friends to try.
How to Win: Visit the
Cookie Boutique
and choose your favorite design(s). Then visit
MomDot's
contest page and leave a comment about your favorite(s). There are also ways to get extra entries!
HOST:
MOMDOT
SPONSOR:
Cookie Boutique
PRIZE: Halloween Cookies - $31.20 Value
CONTEST ENDS: October 15th