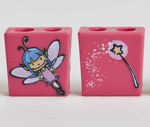 When I was younger I had SO MUCH trouble keeping my laces tied. I still do. I suck at tying shoes. Well, maybe there is a solution close at hand -
TIE BUDDIES
. They are these little doo-dads that you attach to the laces to give little fingers something bigger to hold. And each doo-dad has a character on them, which helps you build a story on how to loop the laces.
For example, there is a race car set, where you teach your child to tie their laces as you tell them a story of how the red car chases the blue car around and into the pit. Or for girls, help the fairy cast a spell - as one tie buddy has a picture of a wand and the other is a fairy.
They really are cute. You can see what they look like
here
.
To enter the contest, do visit the sponsor. But then go to
MOMDOT
and leave a comment telling them how old you were when you learned to tie your shoe. Or tell them how you are teaching your children to tie their shoes.
HOST:
MOMDOT
SPONSOR:
Tie-Buddies
GIVE-AWAY: Tie-Buddy
CONTEST ENDS: October 15th