There is a game of tag going around the blogosphere - and I'm
IT
! I was tagged by
Ohana Mama
- a site that supports women inventors and helps them market their goodies to the world! (
Visit her
!!)
Here are the rules of this blog tag game!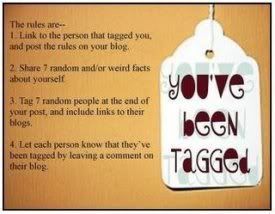 Seven random things about me (Erin) at the Mom Buzz!
1. I HAD an IUD. It migrated to my abdomen and had to be removed with surgery. They put a camera in my BELLY BUTTON to find it!!!
2. I love grasshoppers on the rocks. LOL. It's a drink - look it up!
3. My dream vacay is to go to Australia.
4. I have a sister.
5. I am a Sagittarius.
6. I have a tattoo on my lower back. It's the Chinese symbol for horse and the symbol for Sagittarius.
7. I wanted to marry Elvis when I was younger.
So now it's your turn...Tag You Are It!
These seven bloggers, consider yourself tagged by the Mom Buzz! Tell us 7 random things about yourself, link to me and pass the tagging fun on!
On the Verge
Mommy to 2 Princesses
Fitness for Busy Moms
Posh Mama
Cheaper than Therapy
Go Graham Go!
Sassy Frazz