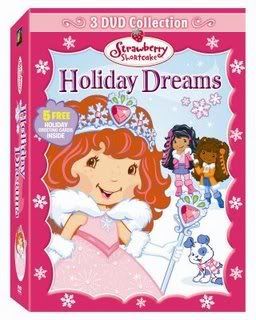 Sassy Frazz
is bringing back memories of my childhood with her give-away of the Strawberry Shortcake Holiday Dreams DVD Collection. I can smell the sweet smell of the dolls just thinking about it! Talk about retro! Well, now YOU can possibly relive memories too by entering to win this three DVD collection featuring a "Berry Merry Christmas," "Big Country Fun" and "Let's Dance." This would be a perfect gift for a little girl in your life!
To enter the contest visit
Sassy Frazz's
contest page and leave a comment telling her what your favorite Strawberry Shortcake character was. Or, if you didn't have a favorite Strawberry Shortcake character, simply let her know what your favorite childhood toy was.
Sassy Frazz
also has ways of earning extra entries!
HOST:
Sassy Frazz
Give-Away: Strawberry Shortcake Holiday Dreams DVD Collection
CONTEST ENDS: October 23rd