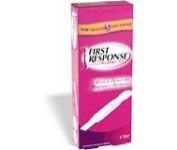 I had Lochlan 10 months ago. He was slightly unexpected, as he came just 19 months after Keegan. So, when I start experiencing pregnancy symptoms a few months after he was born, you can see how my husband and I started getting a little nervous and needed a brand we can trust. So, after spending some time gagging over the toilet saying good-bye to dinner while watching
Knocked Up
- my husband runs to the convenience store and picks up First Response Early Pregnancy Test
COMPARISONS
Now, I am "pee on the stick" obsessive. When I was trying to get pregnant with Keegan we bought A LOT of different brands from generic to name brand. Honestly, they all have the same concept. You pee on the absorbent tip - and you either wait for:
a: 1 or 2 lines
b: plus or minus
c: if you get a fancy digital, you wait for the "pregnant" or "not pregnant" words to pop up
First Response is the test that gives you one line (no HCG detected) or two lines (pregnant). They even have an illustration on the white plastic of the pregnancy test to help you out.
SENSITIVITY
First Response says you can test up to 5 days early. But that only tells pregnant women 69 percent of the time whether or not they are pregnant. It is 99 percent accurate if you wait the day of your missed period.
But the variation is not because of the test - its caused by the variation in the individual women on how much HCG their bodies produce when pregnant. I'll get into that later.
What you want to know right now is that First Response is one of the more sensitive tests on the market reading positive results for 25 mlU/mL of HCG. Some clinical studies had it read positive if your body only had 12.5 mlU. Amazing!
Tests that are equal in sensitivity:
Answer Quick & Simple Early
Clearblue Easy Earliest Result
e.p.t. with plus or minus
AccuClear
Tests that are slightly less sensitive:
Clearblue Easy Digital "Easy Read" (25 - 50 mlU)
Clearblue Easy (50 mlU)
e.p.t. with two lines (50 mlU)
There are some tests that claim to be more accurate, but I don't see them that often. For a more in-depth look at a lot more tests visit
peeonastick.com
.
A WORD ON HCG
HCG, or hormone human chorionic gonadotropin, is made by a woman's body during pregnancy. It is what the tests are looking for. At 3 weeks pregnant, before you miss your period, your HCG would range between 5 - 50 mIU/ml. At 4 weeks, just when you miss your period, HCG ranges from 5 - 426 mIU/ml.
So if First Response looks for 25 mlU - you can see that some women still wont find a positive result even if they are pregnant. That is why First Response suggests testing 7 days later if you still haven't gotten your period. That would make a woman 5 weeks pregnant, and HCG levels should be between 18 - 7,340 mIU/ml. And finally, by 6 weeks you definitely should get a positive reading if you are pregnant since most women have HCG ranging from 1,080 - 56,500 mIU/ml.
RESULTS
There are three possible results with this test.
1. One (1) line - that is the test line - just to prove the test was working. One line means no HCG was detected at this time.
2. Two (2) lines. HCG was detected. It does not matter if 1 line is darker/duller than the other. You are probably pregnant.
3. No lines. It's an invalid test. Retest.

HISTORY
The First Response that is on the market is actually a newer version. The older one had a square result window and would sometimes give false positives that would disappear. The newer one has an oval window, and it does not have the same problem. Positive results should last 48 hours. Although, being superstitious I kept mine throughout both my pregnancies and they stayed positive the whole time. I threw them out after my sons were born. I do know a few women that show their husbands their old positive test results on April Fools. But the test honestly doesn't look that fresh anymore.
END OF STORY
So, I tested two..... okay five times ... since my second son was born. I am still not pregnant and I trust the results since they have faithfully told me whether I was pregnant or not through 4 pregnancies. And, I still have one more test ... just in case. It doesn't expire until February 2010.
Happy Testing.