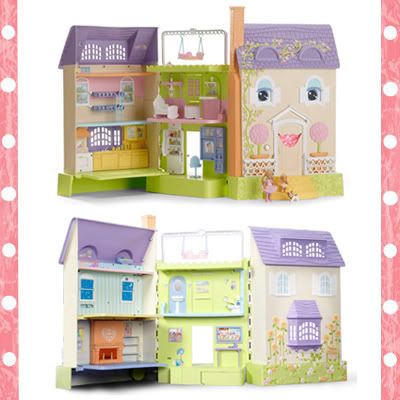 Little Window Shoppe
is hosting a "win it and give it". They want you to enter to win this totally awesome dollhouse called
Mrs. Goodbee
, as well as join them to donate a second dollhouse to a Children's Hospital.
From
Little Window Shoppe
:
"The Caring Corners Mrs. Goodbee Dollhouse is the only dollhouse that comes to life and encourages caring, sharing and preparing as your child plays! It has 12 big rooms; 400+ activities, songs, words and sounds; it helps children learn social and emotional skills through imaginary play and real-life experiences; and it is a 2008 Outstanding Product Winner! To see this dollhouse in action, please visit this Caring Corners link."
I think this will make a GREAT Christmas gift, whether you win or buy it. It is an $80 value.
HOW TO ENTER:
This is one of the easiest contests to enter yet. Simply leave a quick comment on the contest page of
Little Window Shoppe
. You can also e-mail contest@littlewindowshoppe.com (with "dollhouse" as the subject of your email).
HOST:
Little Window Shoppe
SPONSORS:
Rookie Moms
and
Learning Curve
Give-Away:
Mrs. Goodbee Dollhouse
CONTEST ENDS: October 24th