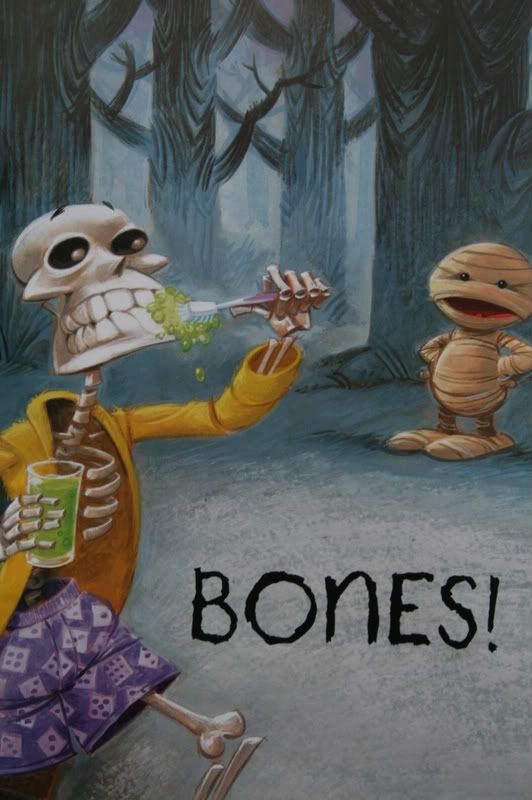 I recently went to Borders to buy a new copy of
Coco Counts
. The original copy we owned went swimming in the bathtub with Keegan. Water + Board Book = Swollen, Soggy Mess. While there, Keegan asked for
Monster Mess
by Margery Cuyler. He LOVES this book. But unfortunately they didn't have it, so I handed him
Where's My Mummy
by Carolyn Crimi, illustrated by John Manders. I admit, I didn't think I would love it...but I do. It is an awesome children's book to read any time during the year - not just Halloween.
Where's My Mommy?
is a combination bedtime story/halloween story/good ol' monster story. It is about a Little Baby Mummy that just doesn't want to go to bed, so he pleads to Mamma Mummy to play one last game of hide and shriek. He runs and hides behind some gravestones and waits..and waits...and waits. Finally he goes off into the deep, dark night to find Mama Mummy. Instead he find characters such as Bones the skeleton, Glob and Drac - all who tell Baby Mummy to GO TO BED. Finally, Baby Mummy gets a fright and Mamma Mummy finds him, they go through their bedtime routine and she tucks Little Baby Mummy up tight.
I love the repetition as he tromps, tromps, tromps through each page. There are plenty of opportunities to make eerie sounds with your toddler as there are clinks, flaps, glugs and rustling going on throughout the pages. And the adjectives are vivid, as baby Mummy leads you through spookery woords, shivery caves and slithery swamps.
Keegan LOVES this book. He points out the mummies, frogs, mice, bubbles, bats, globs and all sorts of other creatures in this wickedly illustrated, frightfully fun book.
SUGGESTED PRICE: $15.99
AUTHOR: Carolyn Crimi
PAGES: 32
PUBLISHER: Candlewick Press, 2008
RECOMMENDED AGE: 4 to 8 - But Keegan (2.5 years old) LOVES it!