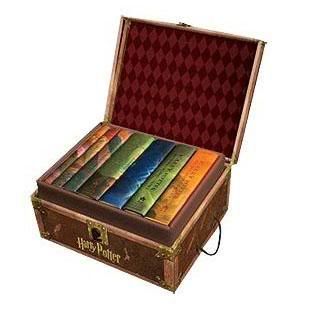 The other day I was at Waldenbooks and saw this faux chest full of Harry Potter Books - 1 through 7. As a Harry Potter fan, both of the books and movies, it was AWESOME. But expensive too. But what's cool is
MomDot
is hosting a Grand Prize Give-Away of this chest, plus a collectible Harry Potter Pin. And the Sorcerer and the Stone copy will have a special 10 year anniversary cover.
That's right - TEN YEARS since it hit the market!
Just imagine if you won, since I am sure you already OWN all the books. But you can keep these safe for your children to read because they are classics and timeless. Engaging. Wonderful. I know without a doubt my boys will love it.
To enter the contest is simple. Do what comes naturally - blog. Blog about the contest with links back to
MomDot
. Once you blog, then you can take steps to be eligible for the runner up prizes - a copy of the anniversary edition of Sorcerer's Stone and the Harry Potter Pin.
HOST:
MomDot
SPONSOR:
Scholastic
(1) Grand Prize: Complete Box Set Books #1 - #7, Copy of the 10th Anniversary Edition of 'Sorcerer's Stone', Collectible Harry Potter Gold Pin
(4) Runners Up: Copy of the 10th Anniversary Edition of 'Sorcerer's Stone', Collectible Harry Potter Gold Pin
CONTEST ENDS: October 13th